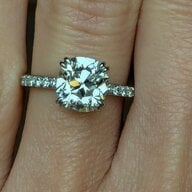 Joined

Jan 21, 2006
Messages

10,589
Hey everyone,
Well...on saturday I went to about five stores and tried on a bunch of gowns. At the first store I tried on a watters and watters bridesmaids gown that I actually loved and it was really affordable since it was a bridesmaids gown. I went to other stores and really nothing all that great jumped out at me. Some things looked nice, but overall I didn''t see anything I loved.
I went back today to the first store and ordered the watters and watters gown. It''s a completely different style than I originally was going for, but it looks great on me and I feel really pretty in it. It''s also more appropriate for our ever increasing guest list and the groomsmen who decided on tuxes instead of suits. My old sleek gown in going on ebay sometime soon, cross your fingers I don''t loose too much money on it.
Here''s the pics!!! The dress size was huge on me, so you''ll have to picture it a bit smaller. I will post more pics in may or june when I get the actual gown. The color is a medium ivory and I love the fabric. It''s very luxurious for a bridesmaid gown, feels very bridal. The fabric is much nicer than my old gown.
yayers!!!