So, I did something stupid and got a designer knock-off, because I am cheap. But now I can't decide if I like it enough or if I should suck it up and get the designer dress anyway. So, I need help. Either convince me that the dress I have is good enough and I should be happy. Or tell me that I should buy the real dress and stop being cheap.
So here is the dress I got. It has some issues. The sleeves are too short, so they are hanging off to the side. The bust doesn't fit right (the cups are too large), and the best under the bust is too low, it should be about the height it is in the other dress.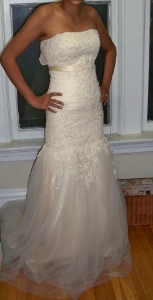 Here is the dress I really really like: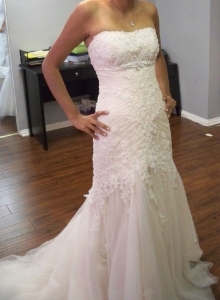 Which one do you like better? I really like the skirt of the second dress. It looks much more clean and elegant to me, while the first dress looks poofy. But the first dress is still beautiful. So really, does it matter that it isn't perfect?
What should I do? What would you do? Keep the one you have and save about a 1000 dollars, or get the one you want, and say it is once in a lifetime?
I also have another question. As I said, for the dress I have, the bust doesn't fit. The cups are too large. I went to a couple of seamstresses today, and they told me that that they can't really do anything about the cups. They can take in the dress a bit, but I will have to wear a push-up bra or something. I thought that it was possible to make these small alterations, so were they just trying to get rid of me, or is it really that difficult to remove and replace cups in a dress?