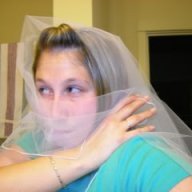 Joined

May 7, 2006
Messages

313
AhhhhhhhhhhAAAAAAAAAHHHHHHHHHHHHHHHHHHHHHH ASSJHFHHOSOHFIGJSBKJHFOUHGKJSBNAKLNDJBSHKJKF!!!!!!!!!!!!!!!
ok had to get that out! now heres the story!
My FIs sister (the one I was a maid of honor for in Her wedding) decided not to be a bridesmaid in OUR wedding not that its important I only asked her about a year ago! she says its too stressful to be a bridesmaid for her, because of work! Shes a teachers assistant..... for a continuing education school! so I said whatever move along .... well later today she calls me to tell ME that I need to be a better person and that NO one in my FIs family likes me.... so of course im like what the...... when did this come up? and at this point I know shes LYING so she goes on to tell me that I pretty much ruined her wedding so everyone hates me and is going to feel weird about coming to OUR wedding! hahaah heres the reason shes mad and mind you while they planned there shot gun wedding in like two months we REVOLVED around her helping her while they lived in Texas and wanted to have the wedding back home in San Diego and her brother and I were there for her every emotional need while while planning our wedding and moving two states away (by emotional I mean every time they almost broke up)... anyways she says because I tried to help HER too much I was too pushy with things during rehearsal and ruined it for them!they had no clue what they wanted in there ceremony it was like they never ever saw a wedding so all I simply did was give suggestions! nicely its on video! I don''t know where she came up with this crockery! aggghhh its just so aggravating how some people can be that way! And now because she talked to her mom about this and mom told grandma the whole story is now around the family and I have a ton of phone calls to make to make things right! On top of all this my fiance got into a fight with his sis defending me which thank god he did. I don''t know if it was jealousy that brought this on because we have our lives somewhat organized more than them or is it because we KNOW what we want OR is it because we have a much better relationship???? what ever it is I hope she gets over herself we used to be like sisters and thats why I asked her to be a bridesmaid I almost asked her to be a MOH now im so glad I didn''t!



ok theres my vent and If any of you are wondering we now have a place to have the wedding and our invitations and things are on a roll but ill update more about our wedding when I cool off a little bit! sorry if this was long i Just needed vent i guess!
oh and in the end of all this something good did happen My FIs ring came today and he was so happy to have it, it was a total surprise I''ll have pics soon!