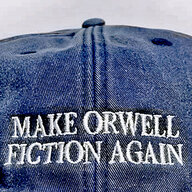 Joined

Apr 30, 2005
Messages

32,806
Do you have a juicer?
What do you juice?
Which juice blends do you like?
Way back in 1990 I bought this juicer, which they still make today.
I thought it was obscenely expensive (around $200), but now 21 juicy years later I'm so glad I bought such a good one since it still runs like new, smooth, quiet and solid.
Today it lists for $300 but with the Internet you can find it for $199; I can't believe it's still made in America!!!
http://www.waringproducts.com/ret/catalog/product.php?cat_id=2&item_id=19
At the bottom of this screen click on
Product Demo
and watch the video of the guy using it.
It is solid, heavy and super powerful; it liquifies thick carrots effortlessly like they were butter.
All the important parts are heavy finely-machined and carefully balanced stainless steel.
If you use a paper filters ($15 for 200) clean up is a breeze!
http://www.waringproducts.com/ret/parts/index.php?part_id=163&product_id=18&cat_id=2
If you've never tasted fresh carrot juice you are in for a surprisingly-sweet treat.
It tastes like someone added sugar.
If you've only had it from a store it's NOT the same!!!
It's one of those juices, like freshly-squeezed orange juice, that you must drink immediately when it's at its best.
Even if you juice it fresh and refrigerate it, I think the taste is
much
worse just an hour later.