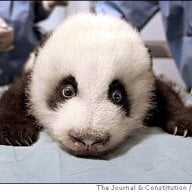 Joined

Nov 17, 2005
Messages

1,007
So I hate cooking. I can''t cook a decent meal to seduce any person. I can''t cook a decent meal to save my life. BUT, I mastered the art of making banoffee pie!!!

What''s that, you ask? Well, the Brits on this board would know. It''s a pie with toffee, bananas, and cream and it''s DIVINE. Ate it for the first time when I was in London, and it was soooo yummy that I had to look up the recipe, because no place here sells it. Well, the original version is made with digestive biscuits, but since I have no idea what they are, I''m sticking with the premade pie crust.

You can make toffee by either a) boiling condensed milk in the can, but you risk the can exploding; or b) pouring the condensed milk into a pie pan, add a generous pinch of salt, cover with foil, put in a pan of water and bake in 475 degree oven for about two hours, or until it turns a golden brown.

Then cool the toffee in the fridge for about an hour, layer it onto the pie crust, add sliced bananas, top with whipped cream and voila! Instant, heavenly, non-guilt-free dessert!!!

I made it and burned myself. Only I can do that with a pie that doesn''t require baking.