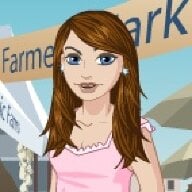 Joined

Feb 17, 2006
Messages

3,867
YEA!!!!!
I''m down in Texas working on the wedding this weekend and yesterday mom and I drove 7 hours round trip to go to the "largest bridal store in the south", Low''s Bridal, in Brinkley, AR. It was SO worth the trip! Anybody in the Arkansas/Tennessee/Louisiana area would definitely benefit from a trip there! The place is huge but doesn''t feel even a little overwhelming. The staff was friendly and wonderful and treated me like I was the only customer in the store, even though it was a busy Saturday afternoon.
And I found my dress!!!
It''s a champagne color, almost gold, and it looks so much better on me than white. I''m planning on adding small sleeves out of the same satin... we ordered extra. The bust area is beaded and the fabric cinches in just below the bust.... it gives my very thick-waisted frame a real waist! It was very slimming, even though I was wearing the wrong undergarment. The corset back really worked well. We didn''t cinch it all the way up, so they didn''t take pictures of the back, but you get the idea here. My mom cried when I put on this dress (and not any of the others), and when I found a veil in the veil room that had the same colored ribbon as trim, she cried over that too. Then I found a pearl comb that matched perfectly and she cried over that too. Then she plunked down her card and bought it all happily as could be because all 3 pieces came to less than $2k and she''d expected to spend at least that much on just the dress. YAY! The comb is by Winters and Rain and they will turn it into a necklace for me after the wedding... the pearls are real.

It was a great, painless experience and I''m SO GLAD I''m DONE with the dress shopping!!!
The pictures are a little fuzzy... I just scanned in the print out they gave me. I completely forgot to use my camera! Ah well... there will be more pics later, this just gives you an idea.