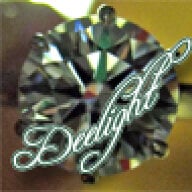 Joined

Oct 4, 2007
Messages

5,543
It probably has to do with the fact that I have spent 3mths looking for a venue to no avail but I had my first highly unrealistic wedding nightmare.
Starts off in my dream it is the day before the wedding and I turn to FI and he is saying how exciting we are getting married tomorrow when I turn to him going OMG is that tomorrow but I don''t have a dress, and he doesn''t have a suit so I start panicking telling him I have to go buy a dress and he must try to find a suit ASAP.
So I trundle off to the city to find a dress and a hostel for some reason as well and find this horrid dress shop and tell them I need a wedding dress NOW because I am getting married tomorrow. These two witchy looking ladies start going on about the unfortunate series of events and then tell me they only have one dress in my size so they hand it to me to go try it on. I go to the change room and try on this horrible lace number with a high neck, long sleeves sack like dress with a sash and come out to look in the mirror (for some reason I am still wearing my jeans underneath the dress) and see that the dress hits mid-calf so I start crying because there is no train and decide to call the whole wedding off.
While in the change room in said ugly dress I call his house speak to his sister tell her all of this that has happened and that I need to speak to FI about calling off the wedding and have it at a later date. She goes to get him and tells me their parents won''t be happy with this and I in my defence am like I don''t see why I forgot to send invites out as well. I get FI on the phone who tells me he hasn't bothered to look for a suit yet he was going to do that tomorrow but that he is fine with the wedding being delayed because if I didn't have a dress there was no point. After this his mum comes on the phone and flips big time over it and starts yelling at me, I hang up and then call my sister to see if she has left for the airport yet so I can get her to cancel her flight but she is already at the airport (at a zoo that doesn't have an airport) and was really calm about it though she did ask me how the hell can you forget to order a dress and send invites.
After that I hang up catch a train back to my burb and am being picked up by someone so I can go see FI but then can't because my other friend is catching a bus to the coast so she can't tell me the way there. At this point I woke up and realised it was stupid and LOL'ed to myself a little and realised there is no way in hell I would forget any of this stuff

.
Sorry about the novel my dreams tend to be a little on the long winded side.