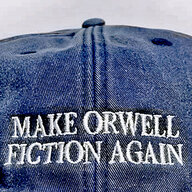 Joined

Apr 30, 2005
Messages

29,706
No, not that
kind
of dream.

We were both students at the same University.
We often had disagreements and harassed each other, but all in good fun ... to the amusement of our fellow students.
Kinda like on PS.
One day the dean witnessed one of our "altercations" and began reprimanding us - with gusto.
DF explained we are actually good friends and all the faux-hostility was just for fun.
I don't know how the dean responded, because at that point I woke up.
Dreams are weird. but fun.
Do you have weird dreams?
Do tell.
Last edited: