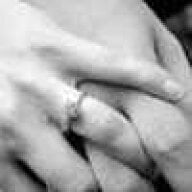 Joined

Dec 11, 2008
Messages

1,072
I can hardly believe it still, but as of last night we are officially engaged!
Several months ago, when we first started discussing marriage, I had joked that anytime after St. Patrick''s day would be a reasonable time to get engaged. Little did I know that it would happen at the first available opportunity!
My FI suggested going out to dinner last night, or maybe taking a walk. I shot him down on both counts, saying we should try and save money and that it was nice then, but it would be dark and cold by the time we got together. So he came over to my place and we ate leftovers and watched some TV with my roommate. Around 10 I decided I needed to get a shower, so I went into my room with FI, since he had my razor that I had left at his house on Sunday. When we got in there, he enveloped me in a big hug and started talking about all the stress I''ve been under this week (I''ve been having major major trouble with my grad school adviser, to the point where I''m seriously considering leaving the program, so it''s been a stressful couple of days). Then he started talking about how no matter what happened with whatever path I choose, he wanted me to know that one thing in my life was 100% constant. Then he sat me down on the edge of the bed, got down on one knee, and reached into his conveniently nearby backpack. And reached again. And checked the other pocket. I started giggling. Finally he pulls out a little box and says those magic words. I couldn''t even get out the word "yes" so I just nodded for a second, and then was able to say YES OF COURSE!
Then I looked at the ring and

. All I could say for the next 5 minutes of so was "Oh my God!" I think I didn''t stop shaking for an hour or so, and I was too excited to sleep most of the night last night but oh well I think I''ll make it through the day anyway! I''ll attach pics when I get to work later hopefully, but it''s a 1.25 RB with a 2.0 or 1.8 micropave band (looove how delicate the setting is). I don''t know the official stats, but he says he thinks it is a G, and SI1 (with the inclusion hidden under one of the prongs).
Thank you ladies so much for your support, it''s been wonderful having all of you here to read about and get perspective from. I will no doubt still be lurking around here for a while, don''t know if I could give you all up!