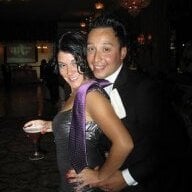 Joined

May 9, 2008
Messages

485
Stick a fork in be because im done. We have been engaged for 2 years, and you would of thought we would have have every detail covered by now. Our wedding is now 7 weeks away and I still have so much to do. I havent even had time to go for my 1 fitting. Keep in mind that this is an intimate 50 guest destination wedding. Which might i add i thought would be easier.

I''m just so cranky at this point, and I hate feeling like this. I go home, and im tired from work to have to deal with wedding stuff. I''m so beat, and my life has turned into a long list and a ton of bags and boxes full of wedding JUNK and this point. My fi and I bearly have the energy to fool around. Its like the excitment has been takin away by fustration and annoyance.

So far I did just have my bridal shower which turned out amazing, but the night before it I had a panic attack, and had numbness on the whole left side of my body. So I wasn''t even feeling 100%!

I also just picked up my veil in time to bring to my fitting ( has anyone done that ?) its so nice.

The only thing im really looking forward to at this point is my fitting, my bridesmaid fittings and my bachorette party that I surely need.

share if your feeling the way i am !