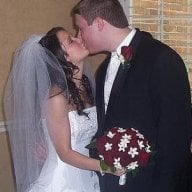 Joined

Jun 8, 2006
Messages

865
FI and I won an engagement sitting at our local bridal show and took the pics in early November. Although we had a great time, we both did not care for the photographer. He was super nice but would NOT pose us at all! When we'd ask him how to pose he'd say "act natural" and at one time said "Do something crazy!" We felt like we were taking the same posed pic over and over again with a few different backgrounds. Speaking of backgrounds, that's all he seemed to care about! He let us view the pics online and some of the backgrounds are nice but it's not all about the backgrounds, IT'S ABOUT US! It was very frustrating and I even got my make-up professionally done! We both knew that he wasn't the photog that we wanted for our wedding.
Anyways...he's been hassling me to come into his studio and I finally sent him an email tonight telling him that after careful consideration we aren't interested in the photos! I felt so awful hitting the send button, but I gave it to him as softly as I could.

Luckily we have a couple of new photogs we're interested in!
ETA: Has anyone else had this type of problem?