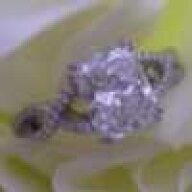 Joined

Nov 28, 2005
Messages

520
Sorry everyone! I wrote this great description of the whole process and then the computer gave me the 'blue screen of death' and I lost everything.

Well ... let's start over! I'm so excited!! My mom finally flew into Seattle to meet my fiance's parents and to attend the wedding show. All of last week I had been going to boutiques to try on gowns so that the search would be narrowed when my mom arrived.

Well, the really nice boutique downtown was having a sample sale so I had saved a Reem Acra dress with a really full skirt and amazing beading on the bodice. When I tried it on my mom wasn't very excited about it. She thought it was beautiful, but didn't feel like it was really me. So, I tried on the other dress and it was a hit! We ended up buying it- but I told her we still had one more dress to look at a different store.

When we went to look at the Rivini I posted earlier, she really liked it. I thought we were going to be in trouble because I had already bought a dress. Well, after awhile, she started crying, and I thought 'uh, oh, maybe I bought the wrong dress.' Then my mom says to me, 'when I see you in this dress, I see my little girl. And as much as I want to keep you as my little girl, in the other dress, I see the beautiful woman you've become!' She was crying over the dress I bought!! I knew it was perfect.

So, drumroll .... it is a very beautiful, simple, Amsale dress. Actually, Amsale originally designed it for a friend of hers and then decided to add it to her collection. However, her friend got upset, so Amsale pulled it after only 3 months. Therefore, the dress was discontinued right away, so the sample wasn't on the floor for very long. I like that very few people even had the chance to order it.

The dress has a very old-Hollywood glamour feel to it. It has a sweetheart neckline with gathered fabric over the bust. It also has a diagonal tie that is encrusted in rhinestones. One the back, it has crystal buttons all the way down the back and down the train. The skirt is less full and I think goes great with our sophisticated loft New York-style reception.

Yes, I do have pictures! But, I need to size them down first and make sure my fiance is nowhere in sight!! Soon, very soon!!

I'm so excited!!