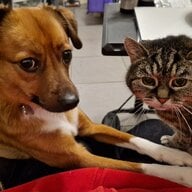 Joined

Jul 7, 2013
Messages

11,843
After months of frustration with no build date in sight since my order for a new VW Crafter panel van was placed in March 2020 shortly before lockdown began, I finally paid the deposit of another new van which will be available for delivery in 2 weeks, woo hoo!!!

It is a lesser spec compared to the one I had in mind, in that it does not have reverse camera and not a 4x4, comes with pearlescent black paint at no extra cost (over 1.3k GBP for that option normally).
However, it is 20k+ GBP less than the one I have on order!!!
The reverse camera can easily be fitted during the van conversion into a campervan, and likely to cost less than what VW would charge.
I am unlikely to go off-grid and off-road into anywhere remote and away from civilisation due to personal safety concerns.
The black paint will contrast very well with the decals and graphics I have in mind, which will be in a rainbow theme and colours.
The lead time for the conversion is 8 to 10 weeks on top. Hopefully, it will be ready in November 2020 so that I could go camping once again with the dog!
The idea of taking it over to France for a short trip before 2020 is out of the window due to the unpredictable nature of Covid-19 on travel restrictions, nevermind.
Can't wait to go camping again soon!
Very happy bunny indeed!
DK