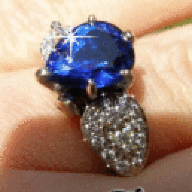 Joined

Feb 27, 2006
Messages

935
We had a conversation yesterday and my ring got into it, I said yeah right I bet you still don''t have it. He said why? I said because anytime you have an exciting present to gibe me, like at Christmas time, you are like "Oh ooo, ooo I just can''t wait for you to open this..., wana open it now???!!!" lol He said well you are wrong (about not having it) but I have absolutely had not a single thought on how I''m going to give it to you!!! He started laughing. I said yeah, right he had it, and typical man comment on not on even thinking about it once, I bet.

I don''t think he''s bluffing I think he really does have it, but it absolutely no rush to give it to me.. Which is okay if he''s waiting for the perfect moment and plan.

I bet it''s in the dash board of the yellow truck of his... but I don'' want to look, I have waited along time (if you have followed my story) and I don''t want to ruin it.