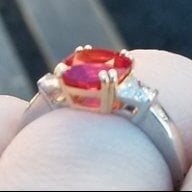 Joined

Nov 3, 2009
Messages

7,589
I read this article on yahoo about a male star who refused to fix his crooked teeth... and remembered a story about Sophia Loren. Many times producers offered her to do plastic surgery to make her nose smaller... and she refused because she said it made her what she was. In hindsight, movie critics agreed that she was right. Imperfect but beautiful face became her trademark. But this story also demonstrates how sure of herself she was.

So how does it relate to human sacrifices? I have read this articles in a very interesting compendium, "Encyclopedia of religion" (12 volumes, so they do not allow me to check it out from the library!). Of interest, the predominant majority of human sacrifices in the history of mankind, from prehistoric times to more recent ones, were women . Kids came next. Males were not sacrificed often, unless they were prisoners of war.

It has made something to women's mentality. It may be already ingrained in our genes. Women learned to view themselves as expendable. Sociologists and anthropologists now believe that such things as anorexia-bulimia, plastic surgery, cutting, high heels and many other things associated with pain but common are rudiments of ages of human sacrifices. It also explains characteristic behaviors of girls raised by abusive or aggressive men. To me it shed a new light on borderline personality disorder.

This is what sociologists think. I give one generation for things to change, but it is my personal opinion. I know I walk far away from gems by posting this, but I thought it could be interesting to some women...

So perhaps Sophia Loren who refused to sacrifice her big nose for the sake of becoming more photogenic was so successful because deep inside she did not view herself as a victim.