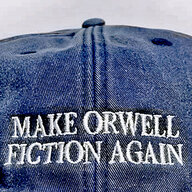 Joined

Apr 30, 2005
Messages

32,297
The primaries have just begun but judging from the surprisingly strong performance of non-establishment candidates like Sanders and Trump, Americans are clearly angry about the status quo.
This election strikes me as more contentious than any other I've witnessed.
As wished by that old proverb, we
are
living in interesting times
.
Don't ask me how I know
, but when emotions fly high people may say things that get them banned.
Others may get angry and leave PS ... especially if they are shocked and angry that the election didn't go their way and lots of posts
support
the winning side.
I hope cooler heads prevail.
But, realistically, how many here do you predict will leave (including both permanently and just to take a break) or get banned as a result of this vibrant election?