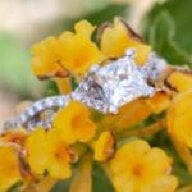 Joined

Mar 25, 2011
Messages

247
Hey ladies!
I've been pretty scarce lately... I had a ton of work to do in lab before going home to NY for 11 days to visit my family and initiate my long-distance wedding planning. Well, I'm finally back in AZ and I figured that I'd dish on the wedding planning madness that was my visit home!
Warning, this is a saga.

With the wedding date set for September 1, 2012, my original idea for my time at home was to finalize the address book/save-the-dates, visit our venue, maybe check out a photographer or flowers, but nothing beyond preliminary visits/estimates.
I should have realized that my step-dad, the king of party planning (literally, he should do it for a living based solely upon the fact that every single vendor in town knows him by name), would end up having me plan just about the entire thing in a matter of a week.
Luckily, having attended several of my step-dad's celebrations, I trust the people he works with as well as his ideas, and the whole thing went rather smoothly!
It went something like this:
Saturday:
Met with my fiance's priest and my rabbi. Priest informs us that the catholic church doesn't recognize a wedding that takes place outdoors.

Even FI's family was in shock! It would figure that the one thing that FI and I both wanted from the start was an outdoor wedding... we put the thought on the back burner for a while.
Sunday:
First time that my and FI's families really go out for a big dinner with the prospect of being in-laws.
It went eerily well! So much so that we did it again on Thursday night.

Tuesday:
Dress shopping in the morning with my mom, future MIL and one of my best friends. A friend of the family was my consultant, and she picked my dress on the first try! I try on several other dresses, but none compare to the first one. It's crazy uncharacteristic of me to decide on anything very easily, but it was everything I wanted: fitted, lacey, sparkly, romantic, vintage... and we all cried.
I decide to sleep on it. Meanwhile, my friend (who is in the bridal party) tries on a few bridesmaid dresses and finds one that we all like-- now to find a shop that sells a similar one for under $100.
Fast forward, I return to the dress shop with my little brothers on the following Saturday, and the dress is more perfect than I remembered. So, we put down a deposit!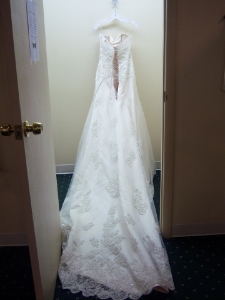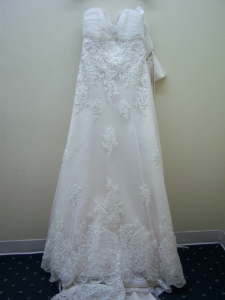 In the evening we go to the venue FI and I had picked online/based on previous visits, the Watermill. We are first shown the brand new renovated chapel (which doubles as a cocktail room paired with the reception room we're using), and immediately FI and I are in love; it's bright, lots of windows, and seems airier than an outdoor setup! Moreover, the ivory walls and window patterns match my dress. I literally made up my mind on-sight.
We go outside to see the outdoor ceremony area, and maybe it was the weather, maybe I was just too in love with the chapel space, but we unanimously decide on an indoor wedding. We go inside and finish our tour and then go up to the owner's office. My step-dad has already picked the cocktail and reception menu set he wants to show us, and needless to say we are floored. FI and I are big foodies (which step daddy knows

), and we were absolutely blown away by the selections! My family puts down the deposit and it's a done deal! Although we'll see what happens when the day gets closer...
Wednesday:
My step Dad sends my Mom and I to the florist. This, I'm thinking, can't be more than an estimate. Well, almost 3 hours later, we've designed center pieces, bouquets, boutonnieres, and even (mostly) the chuppah! The estimate comes in under budget (thank goodness, since the venue/food was most certainly over) and, yup, we put down a deposit.
I go back to FI's house to spend time with his family until our meeting with the DJ who my step dad uses for every event. Again, just to meet. And again, we pick out our photo booth package, our DJ & emcee, a beautiful monogram with scroll work for the dance floor lights and put down the deposit.

Thursday:
We had actually planned to go check out a photographer who is a friend of FI's family. I am extremely critical of most photographers (because I run around with an entry-level DSLR and think I know what I'm talking about

), but after looking through his photo books (as opposed to his associate's photo books, which I swear resemble shots from a pricey point-and-shoot), we're ready to talk packages. As some of you might have read, he gave us a great deal, and I'm looking forward to the engagement session when FI and I return to Long Island for the holidays at the end of this year.
If the shoot goes well, I think we'll stick with him.
I go out with my fiance's Mom afterwards to check out a party favor warehouse, and while we find nothing there, I decided on having either wine topper or topper + corkscrew sets. We go back to FI's house and browse online; sure enough, we found a cute set that I'm heavily leaning towards, as well as an etsy seller for my invitations/place cards/wedding paper goods.
At night, I decide to order our save-the-date magnets. Some of you know that I made my own STD cards. Well, I went home and saw a family friend's STD magnet on our fridge. I had originally liked the idea of magnets, but all of the ones I found were kind of cheesy... to illustrate this point to my mother, I google something along the lines of "vineyard wedding save the date magnet" and come up with this. Needless to say, I ordered it on Thursday night, and they were on my doorstep in Arizona yesterday! (I recommend agiftfulheart.com very highly! They did a fantastic job!)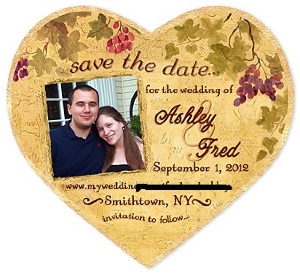 Friday morning,
I sit down for my morning coffee and realize that we've planned as much as we can with 14 months to spare; dress, venue, flowers, DJ, ceremony music arrangements, officiants, blah blah blah

I never meant to plan things so quickly, but it was a relief to enjoy the rest of my time home with the knowledge that I won't have to worry about wedding planning while I'm busy with grad work. Overall, it was a great visit home and I'm so excited... now I just can't wait to get married.