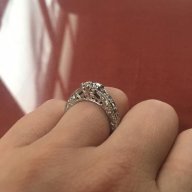 Joined

Jul 30, 2014
Messages

85
help this rock n' roller out!
Amazing that when I lay my head down at night I'm next to THE One
!
I would like to pop the Big Question at places that we have romantic/emotional ties to. So...one is 4 hours away! and the only access is driving; which is a long ride and she would know too quickly and the other is flying; closest airport is Philly and then how to get there I am uncertain of. Too many factors re: flying such as flight delays etc. I could charter a limo but again, that trip is long and how much would a limo cost for a 4 hour one way ride?!
The other idea is a mere 90 min. drive. Wondering how much a 90 min. limo ride would be? To me, that seems more doable and perhaps have the ceremony at the other, further away spot?
any suggestions are welcome. oh...and for those recognizing my screen name the ring's stone is set! .77 carat, Old Euro cut, G-H color, VS clarity. Came out nicely! Hand-designed Victorian custom plat. setting coming next! Took a gamble with the touch up cut but for $250 I got a stone that retails up to $3,500.