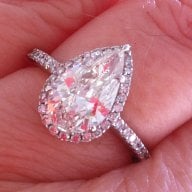 Joined

May 23, 2010
Messages

6,731
I'm sure a lot of you know how to do this, but for those that don't I thought I'd post this "recipe" for the holidays. We do it every year, it's from DH's side of the family.
The result is really sweet,delicious meaty chestnuts that are perfect for a snack or for use in stuffing.
1) Cut bottom of chestnuts with a serrated knife, 3/4 of the way around. Be careful! You kinda want to saw slowly and carefully.
2) Put in water with 1 level tablespoon of salt, and bring to a boil.
3) Keep at rolling boil for about 15 minutes, until the chestnuts puff up and split open
4) While the chestnuts are still hot, peel off the shell and the brown skin on the chestnuts. If they are too cool, the skin won't come off easily. Watch your fingers! They tend to crumble, but are really quite tasty.
I have never roasted chestnuts, maybe someone can add a recipe for that?