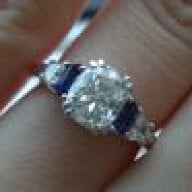 Joined

Mar 2, 2008
Messages

1,749
I have been very absent lately, with school and attending my fiance''s sister''s wedding. I wanted to honor the event by chatting about how great a job she did at making me feel included without asking me to be a bm. We are similar in age and get along great, though don''t know each other all that well. We see each other at holidays, and have had the opportunity to take a vacation together with our guys recently.

From the very start, she had been introducing me as her "sister to be" to her friends. She was proactive including me in family photos, I had a "reserved" seat in the family section (my df was a groomsman). She invited me up to the bridal suite to get my hair done by the hairdresser who was doing the bm''s hair and general hang out with the bms and help her get ready. This pretty much amazed me. I made myself useful and was a good extra pair of hands since I didn''t need to be fully dressed at the same time as everyone else.

By the end of the night we were joking about hiring her to plan my wedding!

These were all little things, but really went a long way to make me feel included in her day, and the family.

I feel so lucky to be joining df''s family.

Cheers.