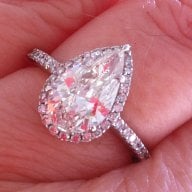 Joined

May 23, 2010
Messages

6,731
Wondering how much to spend on DS and DIL for Xmas this year. DD is still at the age where we can spoil her (college age), but DS is thirty-something now and I am trying to figure out how to ease him into real world gifting. Plus there's an assortment of gifting issues. I'll explain:
When the kids were young, giant Christmas and birthdays were the rule. Easily over $1000 per child, anything and everything they wanted. We'd use 50+ gift bags every Christmas.
Upon reflection, probably a bit much.
DH also has the funny habit of buying everyone expensive gifts on HIS birthday. This year, DS got a laptop and DD got a new iPhone. It was a bit awkward, since DIL was along on for the shopping spree, but neither she nor I got anything. I didn't want anything, and specifically said so, but she was mostly silent (usually is, so couldn't read her). DH enjoys giving and it was his idea of a fun birthday, to put aside the issues we've had with DS and treat him and DD like kids again. DS was delighted (he'd been wanting one, apparently), but he and DIL returned it on their way to their house, and got a desktop computer instead (we found out a month later). Which is fine, it's a gift, do what you like with it, of course! But I think DH was a little hurt, but it's not a big deal, but it makes me wonder; were we supposed to get DIL a gift? If they wanted a desktop, DS could have said, very easily, no problem. Or can DH treat his children, without also treating the in-laws? Not sure how that should have gone.
I was in another store at the time, so missed most of the action. That's actually a whole seperate thing, but wanted to explain why we need to pare it down.
Now, that was all quite a bit of money, and we need to scale back for Christmas. I'm pretty sure they're (DS and DIL) not coming for the holidays. Last Christmas, they visited and we spent about $500 on each of them.
Here's my question: when I was a kid, my grandmother gave her sons sock and underwear. Maybe a pair of jeans and a shirt. That's it. About $50 a head. We're getting close to retirement age, and I'd like to start tapering DD off, and get DS and DIL to about $100 each. They both have well-paying jobs. Can I just do gift cards now? Do we give DS and DIL a joint card, for say $200? What IS the protocol?
What do your parents give you or what do you give your adult children (whichever applies)?
I have no role models for this beyond my grandmother, as my father stopped giving me gifts when I was 18. I think since then, I've gotten one Christmas ornament and a few Xmas cards from him.