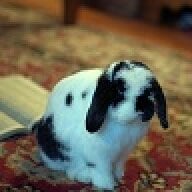 Joined

May 20, 2008
Messages

5,542
Hmmm ... well, we have a townhouse that is probably 1100-1300sqft or so. It typically takes both of working together about 2 hours to totally clean it. However, FI is very slow and meticulous and will take an hour just to do the big bathroom. In that time I've cleaned much of the rest of the house. Lol
As for how often we do it ... I don't want to admit to that, because we probably wait way too long in between cleanings

We're very neat, but not into actual cleaning at all.
ETA: Dishes (and the kitchen in general), laundry, and picking up clutter happen all the time, so I don't include those in "cleaning". It's the dusting, vaccuming, washing floors, and doing bathrooms that we really hate.
ETA2: I told FI that once we have a house of our own, we're absolutely getting someone to come in every other week and clean.