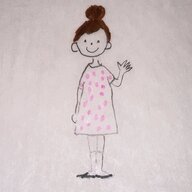 Joined

Feb 2, 2016
Messages

7,023
Yesterday the husband and I were trying to figure out what we wanted to do for the day. We have kids so really it needed to be something to occupy them. So I posed the question, what if we didn't have the kids, you know because it's nice to daydream sometimes
His response was, we would probably go to some stores because that's what we do. True, we used to shop ALOT and go out to eat and visit antique stores. I said yeah but how about something else like see a play or go to NYC, something fun!
After talking some more I'm a little shocked to find out that he has no future goals. His goals were: get married, buy a house, have kids. Okay but we are 37, that can't be it!! Don't you want to visit other places and see cool things and forget about buying stuff, let's buy experiences. He said he would go along with things that I wanted to do and might end up being excited and/or enjoying them but there is nothing specific he wants to do in the future. This is really looking to the future when the kids are grown because someday it will just be us and then what?
This can't be it, in my opinion you need some dreams, something to look forward to especially when you are stuck in the grueling raising kids years.
So my question is, how bad is it that he had no personal goals but will go along with whatever I come up with? Is this a bad sign or typical in this stage of the game? Is an absence of shared goals or dreams a sign that there might be trouble down the road?