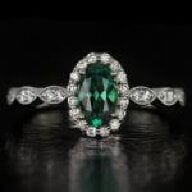 Joined

Apr 13, 2015
Messages

269
This has been something I've been thinking about for awhile, so I thought I'd ask to see what others do/think. For those of you who own multiple rings, how and when do you decide to wear them?

I'm a "one ring on each hand" kind of girl so currently, my e-ring is on my left and on my right middle finger, I wear a seed pearl and sapphire ring. I'm in the process of getting a diamond RHR made, so with there rings in the mix, I've been debating how to wear these. I'm not someone who changes out my rings, and to me, rings are deeply sentimental. Obviously the e-ring will stay on my left hand, but on my right, I don't know how I feel about wearing my RHR and my seed pearl ring next to each other at the same time. The seed pearl is not at all monetarily valuable - it's sterling silver, marcasite, and two tiny sapphires, none of which I think are great quality, and I'm pretty sure it was purchased off of Amazon. However, it is hugely sentimental to me. It was the first "big" gift FI bought me when we started dating, and it was a symbol that he was serious about me. It's also both of our birthstones (I'm a June baby, he's September), so while I know it's not top notch quality, I love the symbolism of it. I kind of can't imagine NOT wearing it, but I don't think it'll look right wearing it next to my RHR either. My RHR is, I guess, less sentimental than the seed pearl ring, but it still has some sentimental value, and I certainly plan to wear it daily.

In the far future, I would also like to have a mother's ring (after, of course, I actually have kids). I would also one day LOVE to own a 1-2ct old cut diamond (not as an e-ring upgrade though...I'm too sentimental to even consider upgrading my e-ring). And because I'm so in love with sapphires, I suspect I will also be adding a sapphire ring into the mix at some point. We're talking many moons away here so obviously nothing I need to concern myself with now, but that would add even more rings into the mix.

When I was in high school and college, I used to wear I think 5 rings on different fingers at the same time, but as I've gotten older, I've really favored the more simple look of one ring on each hand. Still, I'm so stuck on sentimental value that at the moment, I'm leaning towards wearing the RHR and seed pearl ring on my right hand, next to each other on my ring and middle fingers and hope that I get used to the look and feeling. In my heart of hearts, I know that when I eventually get to the point where I'm creating a mother's ring and/or if I do acquire my dream 1-2ct old cut diamond, the seed pearl ring will likely be phased out of regular wearing, but right now, I'm still super sentimental about wearing it...

So, what do you all do when you have more than two rings to wear (that aren't stackers)? Do you wear multiple rings on the same hand, different fingers? Switch them out? And if you switch them out, do you have any "reasoning/criteria" for when you wear what?