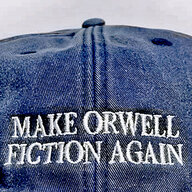 Joined

Apr 30, 2005
Messages

32,795
How much do you think of threads you start as your threads vs. the community's?

I notice variation in how OPs post in 'their' threads.
Sometimes the OP will be very diligent about responding to every post.
People will apologize to the OP if they feel they have thread-jacked a thread that 'belongs' to the OP.

I can think of exceptions but I usually think of a thread I started (notice I didn't call it 'my thread') as a board game I brought to a party.
Everyone plays and if I play I'm just another player, equal.

How do you feel about threads you start?
Do you feel some responsibility beyond what you feel towards threads started by others?
Do you expect other thread starters should feel and post that way too?

On a related note I'll often respond to something someone brings up in a thread.
I'm not responding to them personally, just addressing whatever they introduced into the thread.
Sometimes people will get defensive/offended/insulted as if I'm attacking them personally because I do not share their views ... which catches me by surprise.

I think I just want to talk about the topics themselves and am far less preoccupied with controlling a carefully polished image here like many apparently are.

Penny for your thoughts about either or both of these topics ...