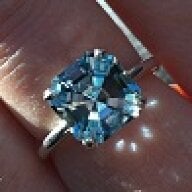 Joined

Jul 21, 2008
Messages

4,881
Our young cat Charlie is becoming a bit of an a-h**e. He constantly attacks (or perhaps he wants to play) our older female cat Emma. When Charlie was still a wee kitten she could run away and get the upper hand (paw?) rather easily. Now that he outweighs and outsizes her by quite a bit I am worried for her poor little 8 lb frame. If she sees him coming, she is OK. But if he sneaks up on her whie she is snoozing he can jump up on top of her, wrap his arms around her, and bite her chest. She screams and beats him with her paws but it doesn't help much if he is on top of her. Typically I have to intervene because I hate seeing her get hurt. I normally just pick him up by his scruff to lift him off and she can get away. As soon as I put him down he sits and stares at me. Then, when I turn my back, he will run at me, wrap his arms around my leg and bite my calf or thigh. Last night he even charged at me when I was sitting on the couch, jumped up, and bit my hands.

Thankfully he doesn't pull these shenanigans with anyone else but FI and I but it really makes me nervous. I would be so embarrassed if he did this to anyone else, especially a kid.

Does anyone have any advice on how to discipline him? He is now 9 months old. He is black and long-haired. The vet seems to think he might have some Maine Coon blood in him due to his size and body shape.

I know that hitting him wouldn't work for so many reasons. Not to mention I wouldn't hit an animal. I know his little kitty brain doesn't process that as "STOP ATTACKING YOUR SISTER AND BITING ME!" He would only see it as an act of aggression.

I just don't want my Charlie to grow up to be one of those cats that little kids are afraid of. He is capable of being very sweet and affectionate. He loves to be petted and held if he isn't in a playful mood.

Thanks for your help PSers. I am really lost on this one.