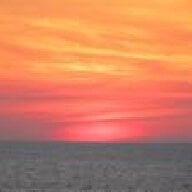 Joined

Sep 16, 2009
Messages

2,328
I was just sending out the rsvp for a friend's wedding. The have a website and included the story about how they first met. I giggled when I read about it being love at first sight because I was there, I know there was a lot of back and forth before the love stage!

I thought it would be fun to hear about some of our stories. How did you first meet? Did you start dating right away? Did you know you were a good match? Was it love at first sight?

I'll start:

I first met DH about 8 years ago at a friend's birthday party. It was at a lounge and all of the seats were taken except for the one I was saving for my then boyfriend. Interesting detail...my then boyfriend and DH have the same name. They were both late for the party. My boyfriend was driving from a conference several hours away and there was a snow storm so I was getting nervous. At that point he was about 5 hours late and not answering his phone. I kept on snapping around every time I heard the door open, hoping it was him and that everything was fine. The friend sitting next to me asked me about it and I explained that boyfriend was late and that I was worried. He said no problem, he'd talked to him earlier and he was just running late, nothing to worry about. I thought it was strange because boyfriend and friend had never met as far as I knew, but I thought "hey cool, he's running late." A little later DH walks in and he can't find a seat. Friend sitting next to me waves him over and tells him that Chemgirl's been saving his seat. He also started teasing DH about how we he never told him we were dating. It took a while to explain that my boyfriend, who has the same name, was also late. DH ended up sitting next to me and calming me down. Boyfriend was stuck behind a car accident and didn't make it for hours. He finally did make it and I left immediately.

I didn't think about DH for at least another year. At that point I started running in to him at parties and conferences. He had a girlfriend though so I never thought of him in a romantic way. I do remember crashing his birthday party one year (we have so many friends in common that they just brought me along) and assuming he was single because his girlfriend didn't come. I ended up sitting next to him and finally became aware of his awesomeness. I facebook stalked him after the party and saw his relationship status go from single to engaged so I promptly forgot about him. Too bad or a would have noticed his status go from engaged back to single a week later!

Fast forward six months and we're at the same newyears party. He brought a female friend who I assumed was his fiance. He was obviously hitting on me in front of her so I got creeped out and avoided from then on.

We finally connected at a conference almost a year later. We finally stopped assuming things about each other and I found out that he was single. We have been together ever since.

Definitely not love at first sight!