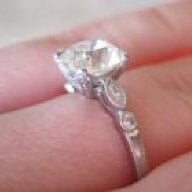 Joined

Jun 26, 2007
Messages

3,081
Hi everybody. My sweet FI and I are trying to plan our honeymoon in April, and it's not going great. We found a travel agent through a family friend, and I've found she seems to be pushing Sandals pretty hard. While I have nothing against it, we were hoping for a little more unique of a honeymoon.

Our dream is to go to Cinque Terre, but budget may keep that from happening. Have any of you ever stayed somewhere great in Italy that didn't cost an arm and a leg? Flights will cost us about $2400 to get there, so we were hoping to find a place to stay for under $2k for 5 nights. This has turned out to be harder than I thought. Even hotels that post less expensive rates online have been more expensive through this travel agency. I'm contacting the hotel privately to see if I get the same number, because I'm beginning to wonder if this travel agency is tacking on fees to make this trip cost more.

Anyway, long story short, I'm looking for honeymoon ideas. Total budget is $6k, so we were hoping hotel and airfare could be $4500 and under, so that we can eat some great meals and maybe do a little shopping.