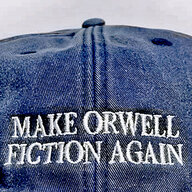 Joined

Apr 30, 2005
Messages

26,933
Sprouts are cheap and wonderful, just like me.
50 years ago I sprouted my first alfalfa seeds.
I read about them in a paperback Yoga book my sister had.
I have not sprouted for years but I'm starting again.
A tub of alfalfa sprouts in the store costs 2 bucks, but that's not organic.
The same amount (when sprouted on your countertop) is less than 10 cents, and that's for
organic
seeds.

Sprouting is easy,
really
easy.
The whole process takes around 5 or 6 days, but each day it requires only a few seconds of your time.
Fresh sprouts taste better than store-bought and of course are super-duper fresh and crunchy; store-bought are sometimes soggy even the day you buy them.
I put em in salads, sandwiches, or a garnish to anything really.
I also like to just munch on the crunchy little guys solo, instead of evil junk-food.
Here's an intro to sprouting:
After alfalfa sprouts, I love bean sprouts in Asian stir fry and salads.
Again, spouting at home is amazingly cheap and easy and super Nom Nom!
I now have some mung beans sprouting - my first time.
Next I plan to try broccoli seed sprouts, then soy bean sprouts.
It was impossible to find alfalfa seeds locally.
Even Whole Paycheck and every local health food store did not stock them.
One person said it was a fad that went out of vogue.
Oh PuhLeeeeese Lady!

I found mung beans at Winco, but had to go online to find alfalfa and broccoli seeds.
Last edited: