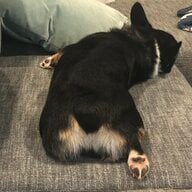 Joined

Jan 4, 2019
Messages

2,338
I'm not even done with one project but planning the next lol. The gist of it is that we have an electrical issue in one part of our house. If you use one bathroom too much, the circuit trips and then we just don't have electric in 2 bedrooms and the bathroom. I called out an electrician last year who said we'd need to open up the walls to really know what's happening. Could be minor, could be big, won't know til we open walls. We used this electrician before on our old house and they did a great job so we trust them. We didn't care enough to remedy the issue when they came out because we barely used that side of the house so we left it alone.

Now that we're looking to expand the family and now that covid is (hopefully) coming to an end, we decided we should probably address these issues and this is where we're not agreeing. We've gone back and forth for a bit at this point so I'm looking for unbiased opinions.

Our house is 6 bedrooms, 3 bathrooms. Original house is really old (93 I years IIRC) and then it was expanded. So the bedrooms on the old side (where our electrical issue is) are tiny. Our master/ the other bedrooms are on the opposite side of the house. There is one off the living room and shared a wall with what would be the guest area but we use it as a home office/ media room. My thought is that this is the perfect time to make that one big guest master. The other bedrooms are on the other side of the house. The con is that it's right off the dining room...

My husband thinks it's weird and that it's going to reduce the value of our house but my thought is who needs 6 bedrooms when 2 are so small?

Opinions? Things I'm not considering?