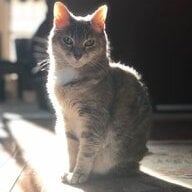 Joined

Jun 17, 2009
Messages

12,742
I have a work conference in Santa Fe that I'd love love love to attend in late August. My work conferences are seriously fun times. To me that will be a holiday!

I've been traveling by plane recently, though not by choice. My father had a massive brain hemorrhage a few weeks ago and I flew home to help my mom. I'll have to do it again in a few weeks when he gets out of the hospital to help set up a home routine for him (if he returns home and doesn't go into long term care.) Flying is really scary right now without being vaccinated. Not everyone is behaving and keeping their masks on unfortunately.

I can't even think about a real holiday at this point. Not enough head space. I just hope my conference in Santa Fe will happen.
I'm really sorry about your father
@RunningwithScissors
and I'm wishing him the best with his recovery. Such a stressful time for you and your family. And I hope your conference goes ahead as planned.