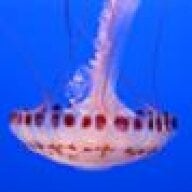 Joined

Nov 30, 2008
Messages

612
This is how I''m feeling about Engagement Chicken!
I hope a bad EC experience isn''t indicative of the future of our relationship!

Okay, I''m kinda embarassed to even tell you gals about this, but I''ve just got to share my experience with you all...
Wednesday I went grocery shopping. Chickens were on sale for 0.79$/pound so of course I scooped one up. When I picked it up I noticed it felt a little frozen, but not solidly, so no big deal. I pulled the chicken out at about 5 o''clock, but it didn''t take me long to realize the darn thing was a lot more frozen than I thought it was. Okay, so I''m a little annoyed because I was really excited about trying the recipe out, but put it back in the frig and made something else. I was a bit disappointed.
So yesterday I''m all excited about the chicken. I was a little nervous about the cooking time because everyone''s been saying it takes a lot longer than the recipe says. So, just after 4 o''clock I start getting everything ready because I was determined to have dinner on the table when SO came home. Everything''s going really well and I''m not worried about it at all. I check the chicken, give it more time. Check the chicken again, it seems done, so I pull it out (thinking, huh, that didn''t take THAT long). So, I proceed to make up the rest of the dinner.
SO comes homes. Everything is ready and looking perfect. We start dishing up only to realize that the chicken is totally not done. I''m a bit sad because I wanted everything to go smoothly, but I put the chicken back in and we start eating without it. SO is enjoying the rest of the meal and even asked, "So to what do I owe this honor?" LOL I responded with, "So you will propose to me." No, that''s what I was
thinking
. What I really said was, "Just because I love you."
Fast forward a half hour, the chicken still isn''t done, so I challenge him to a game of darts while we wait. Everything''s going along fine. I''m on fire with bull''s eyes and win the first match. Okay, so this is where it gets really frustrating. We start the rematch and SO starts critizing my dart-throwing technique. Now, it''s true that I am a dart-destructor. I would never claim to know what I''m doing besides flinging the darts toward the board. And I break darts all the time. And miss the board entirely from time-to-time. But the way he''s acting is starting to really hurt my feelings. Why ruin the fun by making me feel bad, you know?
Maybe it was because the chicken NEVER DID FULLY COOK (we ate the parts that were cooked, but threw half of it out). I don''t know. I was REALLY hurt about the whole dart thing and kept away from him for the rest of the evening. Well, until I had to get into bed. At that point I had to tell him how much he hurt my feelings and he apologized. I think the Engagement Chicken is cursed!

So, I''m completely over it this morning. Although I did dream that SO and I broke up last night and I started dating my little sister''s boyfriend. Ick! But that **** chicken! It''s a little funny to me today, but how utterly disappointing! I''m guessing it didn''t work for me!

I''m not even sure now why I decided to post this because I feel so silly about it. Maybe to give a few of you some laughs?!