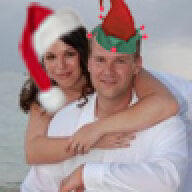 Joined

Jan 8, 2007
Messages

3,962
Soooooooo long. Wow. I''m sorry you guys, but I guess I really needed to vent!
Girls, I''ve gotten myself into a tailspin and along with my engagement fever I''ve been having nightmares, so I don''t know what to do.
Let me first start by saying that my boyfriend and I live in TX. His whole family lives in VA, and my whole family lives in ME, so we don''t see our families that often. We''ve been together for 3+ years and I''ve only been around his family 4 times--each time lasting about a week in length. I love them. They are the most generous, loving people in the world. However, I have kept hidden a couple of things about myself which I should have come clean about LONG ago.
I am a smoker. I know, it''s bad for me. I want to quit so bad. I even DID quit for 10 days when I went with his whole family to Italy, although I was chewing nicorette gum by the pack. I want to quit...I NEED to quit. My boyfriend wants to marry me, but doesn''t want the mother of his future children to be a smoker--which I TOTALLY understand. My smoking is not only affecting my health, but possibly my future engagement! (FTR, some would say he should want to marry me regardless, but smoking would put our future children in danger so I completely understand where he is coming from, and if I were in his shoes I would feel the same way. Please don''t think he''s a bad guy because of this, cause he''s not--and I haven''t been given an ultimatum or anything.)
Back to the story...
I decided very early on that I wasn''t going to smoke in front of his family. It was MY decision. It just wasn''t a first impression that I wanted to make. But since then, I''ve been present for a few conversations about smokers and his whole family is in agreement that smoking is disgusting. Which it is, but during these conversations I have just sat there and not said anything. They do not know I smoke. Makes it kind of hard to come clean after that! Not only that, but I guess deep down I''ve been hoping that I would have stopped by now, so they would never have to know. But that''s not the case. I KNOW I need to quit. I WILL quit soon. I really hope.
The dream I had the other night was terrifying. It was my wedding day--I''m in my dress in front of my boyfriend''s whole family. My cousin comes up to me and asks me if I want to smoke a cigarette. In my dream I had already quit, but my cousin didn''t know that. My boyfriend''s family was shocked and disgusted, and I was embarressed. That COULD happen in real life! I only see my family once a year, it''s not so far fetched that one of them could "forget" I quit and do something like that! So basically I''m petrified, not only because I *am* a smoker, but because I''ve kept it hidden from them.
The second thing that I kept hidden from the future in laws is that I have 3 tattoos. Again, totally my decision--boyfriend had nothing to do with it. The funny thing about that is that one of my boyfriend''s uncles HAS a tattoo. A very LARGE tattoo. Again, it was just a first impression thing. I should probably mention that my very first time meeting his family was at a family REUNION. At LEAST 50 people.(Which is why I was so obsessed with first impressions.) I didn''t want everyone to be be whispering about the tatted-up smoker that he brought home. Anyway, same thing...time goes by...all of a sudden it''s 3 years later and they still don''t know I have tattoos! I''m still not sure if I EVER want them to know I have tattoos, although it would be a huge weight lifted off my shoulders. One step in the right direction though---his sister-in-law emailed me one of those survey type emails where you answer questions about yourself and then forward it. One of the questions was if you had any tattoos. I answered it honestly and nervously forwarded it back to her. So if she read it, then shes got to know, at least. Really, the tattoo that bothers me the most is right smack inbetween my shoulder blades, which I plan on trying to hide on my wedding day. (His family is part of it, but mostly because I want a more conservative wedding.) The tattoo that I think his family might not be thrilled with is right on my stomach, around my belly button. (Don''t worry, it''s not a sun. lol.)
I know his family would dislike the fact that I smoke, but the tattoo thing they''d probably be okay with. I''ve just been keeping these things secret so long I wouldn''t even know how to come clean about them. It''s driving me crazy!

So I guess my question is, do you guys have any advice? And is there anything your in-laws don''t know about you, or am I odd?