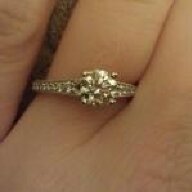 Joined

Mar 16, 2009
Messages

120
I am a senior at North Carolina State University, and I will be graduating with my BS in Accounting in May. I have been with my SO for around 2 1/2 years. He is also a NC State student and hopes to finish his PhD in engineering sometime this summer or fall.

We have recently been talking more and more about getting engaged within the next year or so. He has been asking me a lot of things about what I would like in an engagement ring so I started doing some searching and stumbled across this site. I thought I should finally introduce myself since I have been lurking here for about 2 months.

I look forward to getting to know all of you wonderful ladies!