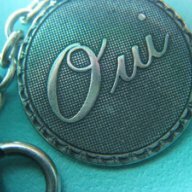 Joined

Feb 18, 2009
Messages

21
Hi everyone!

I stumbled upon this handy-dandy site one day while searching the internets for a "design your own engagement ring" website and I haven''t been able to stay away since!

My BF (FF= Future Fiance? I like that) and I started out as "just friends" about 5 years ago, but have been exclusively dating for almost 3 years.

We''ve known from the beginning that we would one day be married, and I get more and more antsy with every birthday that passes, and when another friend/sibling/cousin/couplethatsnotus gets married. I''ve had multiple little birdies tell me that he says "It''s happening soon," and that does NOTHING to ease my anticipation (aka: impatience).

Tax season is upon us and I''ve got all my crossables crossed that something pretty and shiny will come out of it! So if you could just send some of that "dust" my way, I''d greatly appreciate it (and I''m not talking about a little sprinkle... I could really use it by the truck load).