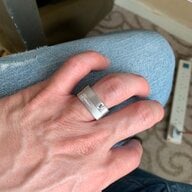 Joined

Sep 11, 2012
Messages

3,416
Hmm.

I have seen a few of these posts recently and it got me thinking... men are not planners are they??????

I am being generalist here with my comment that men are the ones proposing. i know that women propose as well. but the threads i am talking about are the ones where guys have the time constraint- find something in 2 weeks so i can propose. or ladies who are helping their male friends find something quickly to propose.

I also know that there are other men that go over and beyond to propose.. taking months to get it all organised for the event.

I dont think that majority of men can ever plan for the proposal in a timely manner. Yes, i know i am gender bashing... and i am also a man! LOL....

I guess, with something as important as the engagement/ proposal... somethings just need the time and attention that it needs. of course, the proposal is also something that may not be that important as long as the 2 consenting adults are on the same page...

I know i am similar with b'day and x'mas presents... doing it the last minute.... but these are yearly events.. not a life changing event like a proposal in marriage....

Any way, rant over... or maybe just observations perhaps! LOL!