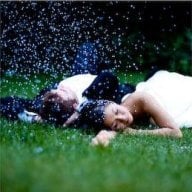 Joined

Sep 26, 2006
Messages

1,895
I was going to send out cards asking my 3 best friends and my sister to be Bridesmaids and MOH. One of the best friends got engaged 2 weeks after me. She seemed SOOOOOOO happy when she told me over the phone and when I saw her and her fiance that weekend (2 weeks ago). Just yesterday I found out she''s having a nervous breakdown and started seeing a therapist about the relationship and she might break up with him completely. THEY''VE BEEN TOGETHER FOR 5 YEARS AND NONE OF US KNEW THAT SHE WAS UNHAPPY!!!!!!! I''m totally baffled and concerned. I only got to talk to her briefly last night, all she could say was that she and her fiance were on their way to a therapy session together and that she had no time to give me details at the moment. I''m certainly not angry because this girl is the sweetest person you could ever meet. I''m extremely concerned because this is so out of the blue. I''m also worried that she doesn''t want to talk to me because she doesn''t want to put a damper on my wedding planning (I was the last to hear about this even though I live the closest to her and was the first friend to hear about the engagement). There really isn''t a whole lot going on with my wedding planning, and I don''t know if she really understands how much more important SHE is than my wedding.

The other 2 girls will be flying into NY for our holiday get-together and I sort of wanted to ask them all before they got here. I''ve made it clear to the other 2 girls that it is more important to be with our friend rather than talk about my wedding. Originally I was hoping my friends could go dress shopping with me because they live so far away and this is one of the only times of the year that I get to see them. I told them that we can always plan my wedding via email and the internet!!

So my issues are the following:
1. Should I wait a few months to ask the girls to be my bridesmaids? Maybe in a few months my friend will feel better?
2. Ooof...I really don''t know what to do about the dress shopping. I highly doubt my friend will want to go dress shopping with me, but would it be wrong for me to ask the other 2 to go with me just for one afternoon? Perhaps I could go dress shopping with my sister and take photos for the other girls. My sister is my MOH but her style is totally different from mine. Part of me is thinking, "the dress really is not important" and part of me is thinking "well, actually I do want a nice dress for the wedding photos." What to do?