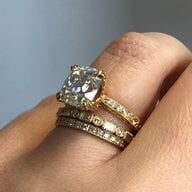 Joined

Jun 3, 2008
Messages

4,684
DH and I are in the very early planning stages of remodeling our kitchen and the small half-bath off the kitchen. Our house is about 100 years old, and we''ve already redone the entire downstairs . . . except for the kitchen and half-bath. When we were repainting the rest of the rooms downstairs, we found a color palette from Olympic Paints that we really liked, and we used colors from that grouping throughout the downstairs. The color palette we used is called
"Rich Beauty of Wine Country."
We used the Sweet Annie and Summer Lily in our front hallway, the Covered Wagon in the living room, and the Bermuda Sand in the dining room (which is adjacent to the kitchen). We''d like to stick with this theme and use colors from this palette for the kitchen and half bath, if possible.
The things we have already decided are:
1. We already have appliances that are pretty new and we love them, so we don''t want to get new ones. They''re all black.
2. We already have dishes that we love and we want to make sure the paint and countertops match our dishes, which are
Pfaltzgraff Mission Flower
.
3. We''re planning to do ceramic tile on the kitchen and bathroom floor, and we plan to use the same tile in both rooms. We found some tile at Home Depot today that we really like, and it''s WAY on sale! It''s a very light ivory (almost white).
4. We don''t want to replace the existing cabinets, which are currently painted white. We''re planning to repaint them and get all new hardware for them (handles, drawer pulls, hinges, etc.). We''re thinking we''d like to paint them white again (or some other light color) and paint the trim the same color.
5. We found these really cool panels for our backsplash that look like pressed tin. We like the pattern shown on
this page
, and we''re considering the following colors: Polished Copper, Oil Rubbed Bronze, or Smoked Pewter. Eventually, we would probably get matching panels to cover the ceiling with.
6. We found a new faucet that we like, and the finish is brushed nickel. Also, we would be replacing our stainless-steel double-bowl sink with another one that is very similar but less ancient! LOL!
7. We''re probably going to do beadboard halfway up the walls in the half-bath, and we would paint the beadboard the same color as the trim, and the walls above would be a darker color.
So, basically, what we need to decide is:
A. Three paint colors: one for the walls, one for the trim and cabinets, and an accent color to paint inside the cabinets that have glass doors.
B. Countertops. I would LOVE to have granite or some other solid surface like Corian or Silestone, but that''s just not in the budget, especially since we don''t plan to stay in this house forever. So, we''re sticking with Formica, but we''re going to get the rolled edge so it will look higher-end. They have a new collection called
the Radiance Collection
that we''re interested in. It has some shiny specks in it that almost make it look a little like granite. We''re leaning toward the Mineral Jet color (which looks MUCH better in person than it does on the website), but that can change if need be. The main reason I like the Mineral Jet is because it''s dark enough to tie in with our black appliances.
C. A new ceiling light fixture. We currently have an elderly, shaky, burgundy and gold ceiling fan that needs to GO!!!

Any advice would be VERY greatly appreciated!