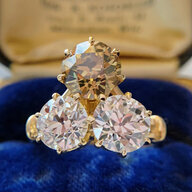 Joined

Jul 23, 2012
Messages

18,748
mary poppins|1354505799|3321029 said:

You look fabulous in that dress! I really liked your plaid idea, but this looks great.

What do you mean by detaching the dress? Does the bottom come of so it becomes cocktail length? If so, that would be awesome to wear on your first anniversary as the salesperson suggested.
Yes that's exactly it. I think it would have stopped at the first pleat. Not a terrible idea. But I asked them to make it one piece instead. We aren't the type of people to go out someplace that requires a cocktail dress. And it created a weird breeze up the skirt
But yeah I had never heard that suggestion before. I always thought it was detachable for ladies that wanted a different dress for the reception. Never heard the 1st anniversary idea. Pretty neat.