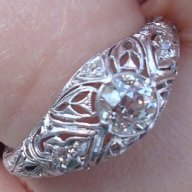 Joined

Nov 30, 2007
Messages

361
My FI's beautiful niece will be our flower girl. I have to buy her a dress from afar because she lives in another country and I will not see her before the weekend of the wedding. I promised to buy her something lovely. Her only wish is that is is pink.
Please help! I need something for a slim framed, 8 year old, beautiful little blonde haired girl.
We are not having attendants. Here is a pic of my dress for reference. It is Antique White/Light Champagne.
I would like something in a soft pink for a July wedding. I will also attach a pic of the venue.
All ideas welcomed!