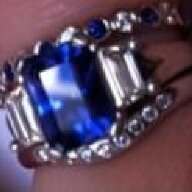 Joined

Nov 16, 2008
Messages

180
Hi All,
This is such a helpful website, I''ve decided to share my woes to see if anyone can help me out. My dress arrived yesterday and it fit very well, except for one problem, the netting material sewn onto the dress on the inside is very stiff and scratchy! Ack!
I know the material (sewn from the knees down to the floor) is suppose to give the dress a better shape, but I''m not sure I can stand having it against my skin all day! My challenge is, if I take it out, can I replace it with some other material that will do pretty much the same thing, but be a lot smoother? Like heavy satin?
Anyone had this problem before? Your feedback would be great.
Thank you.