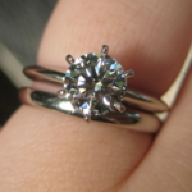 Joined

Feb 28, 2008
Messages

146
Hi all!

So my fiance is from a small town in central Texas. My FMIL just told me that its customary in the church my fiance was raised in for couples getting married to have a shower at the church, and invite all the church families to the shower and ultimately to the wedding. We''re getting married in my hometown (four hours away) so my FMIL says that most if not all won''t come to the wedding and doesn''t see a problem inviting an extra 20 families to the wedding. My fear is that the wedding is already bigger than I wanted (150 invited guests) and my fiance and I are footing the bill. If even 5 or 10 extra people show I honestly don''t know how we''ll afford it (I''m counting on 125 coming). The wedding is June 27th and she wants to have the shower May 16th -- thus she wants to know so she can send out invites ASAP.

What do I do? She says she''s given gifts and money to so many families over the years that she has been looking forward to having the same for my fiance. On the one hand, I see her point and want my fiance''s church honored, but at the same time I''m from a small town and am not inviting my church friends and family friends to my shower in my hometown. But I know each community is different.

Discussions are tense and she asked me to "sleep on it" and let her know what I think... Please please help! I would feel really wrong just having a shower and not inviting these people to the wedding, but I always don''t want to go broke if too many extras show up. But again, I don''t want to be unreasonable as I know many of these families probably won''t show -- but you never know.

*sigh* HELP!