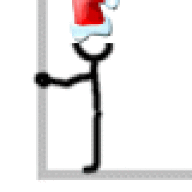 Joined

Dec 29, 2004
Messages

17,193
I bought this from the same vendor I got my Beaudry ring from. It's a Simon G diamond necklace, 17" long.
There are 8 diamonds in milgrained bezels. I knew the diamonds would be small..the auction said .24 total weight, so they are 3 pointers. It also said 18K white and yellow gold.
I got the necklace today. As I suspected, it's not yellow gold on 4 of the bezels...looks rose to me. Also, from the stock pics below, the diamonds in the rose gold bezels didn't look white either...and I looked at it when I received it today and they distinctly look pinkish...but I'm not sure if that's the rose gold reflection, or if they are indeed pink (my OLD eyes are playing tricks on me!

) The necklace on is unassuming and pretty...just a small flash from the diamonds here or there. You can tell that some of the bezels have warmth to them, but you can't tell right off the bat if they are rose gold or pink diamonds. They just look slightly different.
I'll take macro pics (my camera battery was dead) but thought I'd post the stock pics while I was at it. The cost of the necklace was $390. It does look nice with a collared work shirt. Nothing flashy...just a subtle accessory.
Thoughts? I'll take other pics as soon as I can.