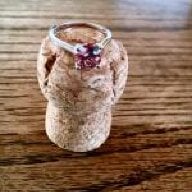 Joined

Apr 9, 2008
Messages

412
I haven''t been posting much lately because I''ve been so busy, and have been sick



I want to start posting more often, I think it helps me get out a little of my "giddyness" about an upcoming proposal... and now at this point I don''t even know where we are in the process...

I know BF wants to get engaged, but he''s working on the finances (long story, he''s got a lot of past debt - he has been sooo super good about it recently and not charging anything!!! good for him).

So I guess not much of an update on the proposal side... But I''m starting to not care as much as I used to about it, and maybe that''s because I know he loves me and wants to marry me. So I Can wait until he can afford a ring.

Right now we are saving together for a wedding, we have an account that we''ve been putting money in each month... So to me that''s a big step!

My mom and I went to a local bridal expo a few weeks back, BF knew I went - actually he "gave me permission". I truely believe he is very excited about proposing. He wants me to "beat" my sister, especially since my sister is dating his bestfriend...

Alright, that was my ramble of complete nonsense!

Have a good Day!!! Cheers, Happy "Early" St. Patty''s Day.