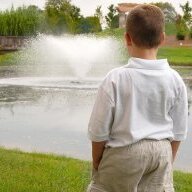 Joined

Feb 20, 2006
Messages

224
I know a lot of ladies would be happy hearing this, but I''m not. I''m confused and a little hurt. As most of you know, my boyfriend and I have been dating for at least 3 years... and were best friends several years before that. He talked to my dad and got his blessing in early August and I put myself on the LIW list officially then. He also told me in September that it''d be very soon, within a few months. So... I was really hoping for a proposal by year end. I basically left him alone and didn''t bring it up because I assumed he was busy planning, looking, shopping... something! Evidently, he has done nothing at all during these almost 5 months.

Last night I mentioned that, YET AGAIN, someone asked me if I got something sparkly for Christmas. This led into a conversation that I had planned to save for the new year, but couldn''t. Basically, he told me that I needed to tell him when I wanted to get married, and then we''d go get a ring. I told him I wasn''t setting a wedding date when I wasn''t even engaged. I thought that might be a hint for him to realize he should propose first. But then he just replied that we have talked about it and if we are ready then we''ll go get a ring. As I said, I know some liw''s would be thrilled and go pick out the ring. So, what is wrong with me? Should I have said OK and gone along with it? Is this the only way it''s going to work for me? He has told me for ages he didn''t know when "the right time" would be. Is he really needing ME to tell HIM it''s the right time???

One piece of background for those still reading.... We were best friends, but I had realized that something had crossed the line and there were more feelings there. *I* finally told him how I felt, and he was relieved to know that and admitted to feeling the same way. I can''t help but wish he had been the one to tell me how he felt, and not me him. So, this next move into marriage.... well, it''s very important to me that it be led by HIM. I always thought he was very traditional in his views, but maybe not.

Anyway, does anyone have any advice? Should I say OK and go pick out a ring and call myself engaged? Should I wait it out and see if he can actually ever make a move without me doing it for him? I know I need to talk to him more, but I can''t find the words to explain to him why "lets go get one" is not the way I need/want it to be. Am I selfish for wanting so much? I don''t even WANT/Need a ring which I have made clear to him. I just want an actual moment where he says those magic words.

thanks for reading and for all the support here.