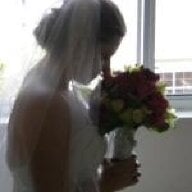 Joined

Feb 20, 2009
Messages

5,496
The ring arrived today at fedex. It was a long two weeks to wait, but it was worth it. I thought he was gonna hold it from me for a while lol!
In any event, I come home to a big ol' fedex box on the dining room table. I pick it up to see it was open and empty. Nosy me asked him, and he said he took it out to hide it.
Anyway, after I showered and changed into my pj's, we got a call from my stepmom asking us to come over and help her with the computer. I was a little upset because it was around 7pm, and I hadn't even started dinner yet. I grudingly got changed, and went into the bathroom to do my hair and put my contacts back on.
I finish up my hair, open the door, and there he is, on one knee, with the ring box in one hand. He grabbed my hand and said "Baby, I love you with all of my heart, and I want to be with you forever. You make me so happy, so will you marry me?". Then he opened the box. At first, I said to him "Is this really real? Like you're not showing me the ring and then gonna take it back right?" He said "Nope". Of course, I said yes, and he got up, and the waterworks started. I cried so much I made him cry.
Specs:
Stone
. Report: AGS
. Shape: Princess
. Carat: 0.703
. Depth %: 73.5
. Table %: 70.3
. Crown Angle: 43.7
. Crown %: 13.2
. Pavilion Angle: 39.4
. Pavilion %: 58.7
. Girdle: Very Thin to Thin Faceted
. Measurements: 4.81-4.79X3.52
. Light Performance: 0
. Polish: Ideal
. Symmetry: Ideal
. Culet: Pointed
. Fluorescence: Negligible
Color-F
Clarity-VS2, eyeclean
Setting:
Whiteflash
ACA
diamond melee
12-approx. 0.27ctw
Color: F/G
Clarity: VS
It was perfect. So intimate and sweet. Seeing him on one knee, proposing to me was the most incredible feeling I've ever felt!!!!
Here are the handshots, in separate posts, coz I can't figure out how to upload multiple pics in one post, lol!!