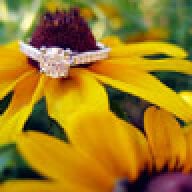 Joined

Nov 29, 2008
Messages

311
So, I am sitting here crying right now and I feel like a total psycho.
Today in the car my mom asks "So when are you and ***** going to get engaged?" She knows FULL well that I have no idea. I relay this info to BF because him and I get a kick out of how my family seems to be more impatient than me, and he gets a little annoyed about it. Apparently he's been getting asked from our friends as well quite frequently, and in a sort of tongue in cheek way, implying that he is dreading having to propose.
Of course this gets my little mind rolling and thinking, "What if they know something I don't?" I have no reason to believe anything of this sort, but still.
Everyone speculating when we'll get engaged, and why he's taking so long, etc. is really getting to me. It's stressing me out big time.
I am the type of person that I hate surprises. I actually like being surprised, but the thing is I usually end up knowing some detail about the surprise before it happens and I hate not being able to know everything. Either tell me everything or be damned sure that I know zip!
I am just so stressed out about the impending egagement and I feel like it should not be this way. I feel a little better already typing this out, so thanks for listening.