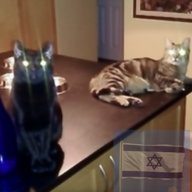 Joined

Jun 8, 2008
Messages

46,123
http://www.cnn.com/2016/11/10/us/post-election-hate-crimes-and-fears-trnd/
(CNN)Fears of heightened bigotry and hate crimes have turned into reality for some Americans after Donald Trump's presidential win. And the list of incidents keeps growing.

The Southern Poverty Law Center has counted more than 300 cases of hateful harassment or intimidation in the US since Election Day.
"They've been everywhere -- in schools, in places of business like Walmart, on the street," SPLC President Richard Cohen said Monday.
While Trump has been accused of fostering xenophobia and Islamophobia, some people have used his words as justification to carry out hateful crimes. Recent days have witnessed ugly episodes of racist or anti-Semitic pro-Trump graffiti along with threats or attacks against Muslims.


The President-elect said he was "so saddened" to hear about vitriol hurled by some of his supporters against minorities.
"If it helps, I will say this, and I will say right to the cameras: Stop it," Trump said in an interview that aired Sunday on CBS' "60 Minutes."
But it's not just Trump supporters inciting attacks. A man in Chicago was beaten as a bystander yelled, "You voted Trump!" And two men in Connecticut were arrested for allegedly assaulting a Trump supporter.
Here's what some Americans are dealing with across the country.
Intimidation and violence from some Trump supporters


Reports of racism, bigotry post-election


'Make America White Again,' softball dugout reads
New York Gov. Andrew Cuomo ordered a joint investigation after someone painted a dugout wall in Wellsville, about 80 miles southeast of Buffalo.
The message: A swastika, surrounded by the words, 'Make America White Again."

The governor said both New York State Police and the State Division of Human Rights will investigate the alleged hate crime.
"New York has zero tolerance for bigotry, fear and hatred, and those who seek to undermine the core values this state and nation were founded upon," Cuomo said.


Swastika, 'Trump' at New York campus
Hours after Cuomo reported the Wellsville incident, the governor announced another alleged hate crime -- this one at SUNY Geneseo.
Someone spray-painted a swastika and the word "Trump" on a dorm building.
"It is unacceptable that this is the second investigation that we have had to announce in the last several hours," Cuomo said in a statement Saturday.
"To any New Yorker who is scared, I want you to know that we have your back, that we will keep you safe, and that protecting your rights is what America stands for."


Police in Ann Arbor, Michigan, were investigating reports a man approached a Muslim student and threatened to set her on fire with a lighter unless she removed her hijab.
The suspect is described as 20 to 30 years old, unkempt and intoxicated, according to the University of Michigan.
The Michigan chapter of the Council on American-Islamic Relations said the alleged attack is among a spate of anti-Muslim incidents reported since Trump won the election.
"Our nation's leaders, and particularly President-elect Donald Trump, need to speak out forcefully against the wave of anti-Muslim incidents sweeping the country after Tuesday's election," Executive Director Dawud Walid said.

At New York University's Tandon School of Engineering, students discovered Trump's name written on the door to a prayer room for Muslims on Wednesday, school officials said.
"Our campus is not immune to the bigotry that grips America," the NYU Muslim Students Association said in a Facebook posting.
School spokesman Kathleen Hamilton said the school has many immigrant students, with about 20% from abroad.
"It's a real melting pot here," she said. "We all believe this very much, that the university is a place of free expression. It has to be safe to be so."
New York police are investigating.

Graffiti in high school: 'Trump,' 'Whites only,' 'White America'
Minnesota high school student Moses Karngbaye said he was terrified to see racist graffiti scrawled inside a bathroom.

Someone had written "#Go back to Africa" and "Make America great again" on a toilet paper dispenser at Maple Grove Senior High School.
"That's the first time I honestly felt like crying at school," Karngbaye told CNN affiliate WCCO.
The bathroom door was also covered with graffiti, including "Whites only," "White America" and "Trump."
Karngbaye sent photos of the graffiti to his mother, Denise Karngbaye, who told WCCO she takes the attack personally.
"I train my kids to respect everybody, regardless of their race, their ethnicity, their background," she said.
Hate crime investigation at San Diego State University


A San Diego State University student walking to her car was confronted by two men who made comments about Trump and Muslims, SDSU police said.
Officers injured in anti-Trump protests in Oakland

"Comments made to the student indicate she was targeted because of her Muslim faith, including her wearing of a traditional garment and hijab," SDSU President Elliot Hirshman said in a statement.
The men grabbed the student's purse and backpack and removed her keys. After the student returned from calling the police, her car was gone. The suspects are still at large.
Hirshman called the incident a hate crime.
"We condemn this hateful act and urge all members of our community to join us in condemning such hateful acts," he said. "Hate crimes are destructive to the spirit of our campus, and we urge all members of our community to stand together in rejecting hate."

Graffiti: Neither black lives nor black votes matter
The day after Trump's victory, someone painted racist messages referencing the election on a wall in Durham, North Carolina.
"Black lives don't matter and neither does your votes," the message said, according to CNN affiliate WNCN.
On Thursday, crews came to paint over the graffiti.

Phyllis Terry, whose family owns the JC's Kitchen restaurant next to the graffiti, told the affiliate she was heartened by the effort to cover up the message.
"I am amazed. I am really touched this morning that the community has rallied together," she said.
Nazi-themed graffiti in Philadelphia
Someone spray-painted the words "Sieg Heil 2016" and "Trump" -- with a swastika substituted for the T in Trump -- on a building's glass window on South Broad Street, police said.
The words "Trump Rules," "Trump Rules Black [expletive]" and the letter "T" were spray-painted on three vehicles and a house on South Sixth Street. And a swastika and "Trump" were written on a utility box at Broad and Reed streets.
Police said surveillance video captured a male of unknown race spray-painting around 5 a.m. Wednesday.


It was unclear if the graffiti was a protest of Trump or a pro-Nazi act. But the Anti-Defamation League has denounced it.
"Swastikas and the Nazi salute send a message of intolerance and hate to the entire community," the ADL's regional director, Nancy K. Baron-Baer, said in a statement.

Baron-Baer said the group views the graffiti as an isolated incident, but stressed that "we cannot allow this behavior to become routine."
Black doll hung from rod at college

At Canisius College in west New York state, students posted photos of a black doll hanging from a dormitory curtain rod on social media, and one student created a meme with language about "Trump fans," college President John J. Hurley said.
Students who saw those photos notified campus police, who investigated, Hurley said.
Some students have been suspended and may be expelled, he said. An outside investigator will be hired to determine if any students should be prosecuted for possible hate crimes, as several parents and students urged, Hurley said. He did not name the students or say how many were involved, citing privacy concerns.

On Wednesday, the school held an open session on the doll incident attended by about 300 people. "It is clear to me that this episode has exposed some deeply held concerns among our students of color and that we need to go well beyond addressing the immediate incident involving the doll," Hurley said.

'Deportation' letters handed out at school
A student at Shasta High School in Redding, California, posted a video on Twitter of himself handing letters with the word "deportation" written across the top to half a dozen students, school district Superintendent Jim Cloney said in a statement.
The students appeared to be of a variety of ethnicities, Cloney said. After talking to the student and his parents, the video was taken down. The student said he thought the video was funny, Cloney said.
"Needless to say, we don't think this sort of behavior is funny nor reflective of the culture of Shasta High," he said. He said appropriate discipline will be applied.

Violence against Trump supporters
Hat-wearing supporter: I was assaulted on NYC subway
Corey Cataldo was riding a subway car to the Bronx when a man asked him whether he was a Trump supporter, police spokeswoman Sgt. Jessica McRorie said. When Cataldo said yes, the man grabbed him by the neck, hurting his left shoulder, McRorie said.
Cataldo, 24, was wearing a white hat with the motto "Make America Great Again" stitched on it, CNN affiliate WABC reported.
The electrician told WABC that as he was being chocked another man acted like he was going to help, but shoved him against a window.
McRorie said no one has been arrested and the investigation into the reported incident continues.
CNN called a number listed for Cataldo and left a message seeking comment.

Trump supporter beaten in Connecticut
Two men were arrested for punching and kicking a Connecticut man who was waving an American flag and holding a Trump sign Saturday, Meriden police said.
Wilson Eschevarria and Anthony Hobdy were charged with assault.

The 45-year-old victim told police that Eschevarria and Hobdy gave him the finger and he responded, "Same to you."
That's when the two suspects started beating him, the man told police.
Man beaten as onlooker yells, 'You voted Trump!'



David Wilcox said he was struck by another vehicle while driving in a Chicago intersection. When he got out to try to get insurance information, men from the other car started attacking him.
"You voted Trump!" a bystander screamed as a man punched Wilcox in the head. Another tried to kick him in the face.
Wilcox said he doesn't think his attackers knew who he voted for. Still, the assumption was already made.
Even though he was beaten on the street in broad daylight, Wilcox said, "Nobody did anything to help."
On top of that, someone stole Wilcox's car. Police are investigating.


From violence to unity
Baylor University: 300 students escort victim to class
Amid all the physical and verbal attacks, hundreds of Baylor University students rallied behind Natasha Nkhama to make sure she felt safe leaving class.
Nkhama said she was walking to class last week when a guy "went out of his way to bump into me and shove me off the sidewalk."
"He said, 'No n------ allowed on the sidewalk,' " Nkhama said in a video posted to Twitter last Wednesday. "I was just shocked, like I had no words."
Nkhama said two men she did not know defended her, asking the student what he was doing.
"The guy said, 'Dude, like what, I'm just trying to make America great again,' " Nkhama said.
The university said it was "aware of a student who was pushed and subjected to racially offensive language," an incident it describes as "deeply disturbing and does not in any way reflect Baylor's faith or values."
Nkhama's video and #IWalkWithNatasha quickly spread across social media. When Nkhama walked out of a class Friday, about 300 students stood by the door, waiting to walk her to her next class, according to campus police.

Nkhama broke down in tears.
"I just wanted to thank everyone for being here, and I want everyone who sees this to know that Baylor is a campus of love," Nkhama said.
She also thanked the two students who came to her defense when she was assaulted.
"To whoever defended me that day, I don't know who you are, but I thank you honestly and thank you for being an example to everyone on campus."

What the teacher said
'Back to Africa' comment in Florida
A faculty member at a Pasco County, Florida, high school has been accused of telling a group of African-American students standing in a hallway, "Don't make me call Donald Trump to get you sent back to Africa."
The Wesley Chapel High School teacher, who is also the golf coach, allegedly made the remark the day after Trump was elected.
The school system is investigating. "As soon as the students reported the incident to administrators at the school on Wednesday, November 9, (the teacher) was sent home on administrative leave, where he remains," Pasco County Schools spokeswoman Linda E. Cobbe told CNN.
The teacher did not return a phone call and emails from CNN seeking comment.
http://www.nytimes.com/2016/11/15/us/politics/fbi-hate-crimes-muslims.html
WASHINGTON — The F.B.I. reported Monday that attacks against American Muslims surged last year, driving an overall increase in hate crime against all groups.

The data, which is the most comprehensive look at hate crime nationwide, expanded on previous findings by researchers and outside monitors, who have noted an alarming rise in some types of crimes tied to the vitriol of this year's presidential campaign and the aftermath of terrorist attacks at home and abroad since 2015.

That trend appears to have spiked in just the last week, with civil rights groups and news organizations reporting dozens of verbal or physical assaults on minorities and others that appear to have been fueled by divisions over the election.

In its report on Monday, the F.B.I. cataloged a total of 5,818 hate crimes in 2015 — a rise of about 6 percent over the previous year — including assaults, bombings, threats, and property destruction against minorities, women, gays and others.

Attacks against Muslim Americans saw the biggest surge. There were 257 reports of assaults, attacks on mosques and other hate crimes against Muslims last year, a jump of about 67 percent over 2014. It was the highest total since 2001, when more than 480 attacks occurred in the aftermath of the Sept. 11 attacks.

Attacks against transgender people also sharply increased.

Blacks were the most frequent victims of hate crimes based on race, while Jews were the most frequent victims based on religion, according to the F.B.I. data. But the increases in attacks on these groups were smaller than the rise in attacks against Muslims and transgender people.

Over all, 59 percent of the hate crimes that the F.B.I. recorded were based on the victims' race, ethnicity or ancestry. Religious bias accounted for about 20 percent of all attacks, and about 18 percent of attacks were based on sexual orientation.

Law enforcement officials acknowledge that the statistics give an incomplete picture because many local agencies still have a spotty record of reporting hate crimes, 26 years after Congress directed the Justice Department to begin collecting the data.

"We need to do a better job of tracking and reporting hate crime to fully understand what is happening in our communities and how to stop it," James B. Comey, the F.B.I. director, said Monday. The F.B.I. regards the prosecution of hate crimes under federal jurisdiction as the top priority of its civil rights branch.

Since the election, hate crime monitors like the Southern Poverty Law Center have reported a rash of verbal or physical abuse targeting minorities and others at schools, mosques and elsewhere.

Some supporters of President-elect Donald J. Trump, however, say they too have been victimized.
Steve Bannon editorial NY Times.
http://www.nytimes.com/2016/11/15/opinion/turn-on-the-hate-steve-bannon-at-the-white-house.html
Anyone holding out hope that Donald Trump would govern as a uniter — that the racism, sexism, anti-Semitism and nativism of his campaign were just poses to pick up votes — should think again.

In an ominous sign of what the Trump presidency will actually look like, the president-elect on Sunday appointed Stephen Bannon as his chief White House strategist and senior counselor, an enormously influential post.

Many if not most Americans had never heard of Mr. Bannon before this weekend, and for good reason: He has kept a low profile, even after taking over Mr. Trump's campaign in August. Before that, he worked as the executive chairman of the Breitbart News Network, parent company of the far-right website Breitbart News, which under Mr. Bannon became what the Southern Poverty Law Center has called a "white ethno-nationalist propaganda mill."

Mr. Bannon himself seems fine with that description, telling Mother Jones last summer that Breitbart was now "the platform for the alt-right," a loosely organized group of mostly young men who believe in white supremacy; oppose immigration, feminism and multiculturalism; and delight in harassing Jews, Muslims and other vulnerable groups by spewing shocking insults on social media.


To scroll through Breitbart headlines is to come upon a parallel universe where black people do nothing but commit crimes, immigrants rape native-born daughters, and feminists want to castrate all men. Here's a sample:

"Hoist It High and Proud: The Confederate Flag Proclaims a Glorious Heritage" (This headline ran two weeks after a white supremacist massacred nine black churchgoers in Charleston, S.C.)

"Birth Control Makes Women Unattractive and Crazy"

"Gabby Giffords: The Gun Control Movement's Human Shield"

If you don't find the headlines alarming, check the reader comments. Or take a look at who's rejoicing over Mr. Bannon's selection. The white nationalist Richard Spencer said on Twitter that Mr. Bannon was in "the best possible position" to influence policy, since he would "not get lost in the weeds" of establishment Washington. The chairman of the American Nazi Party said the pick showed that Mr. Trump might be "for 'real.'" David Duke, former imperial wizard of the Ku Klux Klan, called the choice "excellent" and said Mr. Bannon was "basically creating the ideological aspects of where we're going."

Mr. Bannon is in some ways a perplexing figure: a far-right ideologue who made his millions investing in "Seinfeld"; a former Goldman Sachs banker who has reportedly called himself a "Leninist" with a goal "to destroy the state" and "bring everything crashing down." He has also called progressive women "a bunch of dykes" and, in a 2014 email to one of his editors, wrote of the Republican leadership, "Let the grassroots turn on the hate because that's the ONLY thing that will make them do their duty."

A few conservatives have spoken out against Mr. Bannon. Ben Shapiro, a former Breitbart News editor who resigned in protest last spring, said Mr. Bannon was a "vindictive, nasty figure." Glenn Beck called him a "nightmare" and a "terrifying man."

But most Republican officeholders have so far remained silent. Some have dismissed fears about Mr. Bannon. Other Republicans have praised him, like Reince Priebus, the chairman of the Republican National Committee, whom Mr. Trump announced as his chief of staff on Sunday, and who said Mr. Bannon could not be such a bad guy because he served in the Navy and went to Harvard Business School. Some saw the pick of Mr. Priebus as evidence that Mr. Trump would not be leaning so much on Mr. Bannon. But don't be fooled by Mr. Priebus's elevated title; in the press release announcing both hires, Mr. Bannon's name appeared above Mr. Priebus's. In a little more than two months Mr. Bannon, and his toxic ideology, will be sitting down the hall from the Oval Office