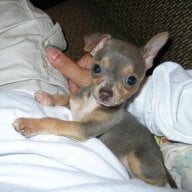 Joined

Dec 16, 2007
Messages

5,184
The movie isn''t here yet, it''s released--but limited and not in my Chicago burb town--so I haven''t been able to see it.

I broke down and bought the paperback book today after waiting for it to arrive on Kindle to no avail, I simply couldn''t wait for it any longer. I have found that while the language of the story is sometimes hard to read and I have process and then reprocess the words, it''s heartbreaking and graphic and chilling. It makes you step outside of your comfort zone as far as reading but I''ve found that I cannot put it down, and being as short as it is, I anticipate finishing it in a minute.

I don''t know anyone who has read this story...but would love to talk about it because it makes you think, feel and reach deep and want to do better in this world...I was hoping someone else here might have enjoyed it...and if not (and you don''t mind graphic stories) pick this book up!