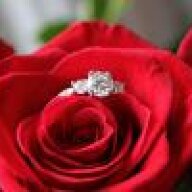 Joined

Aug 13, 2011
Messages

199
I know a TON of you are in the same or similar bought as me. Lately, I have been horrible at this waiting game!!!! In August we went ring shopping and started the custom process. During the first days of October we went back because of complications with the custom (the jeweler couldn't successfully make it). We figured it out and the custom was again started. I am so inpatient now and I allow myself to get so discouraged because of how long I have been waiting! What is harder is the diamond was an heirloom stone that his grandmother gave us in June. This diamond has been sitting in the safe since then. I snooped today, hoping to see the diamond gone or at least replaced with a different box, no luck! I know I am driving myself crazy and I shouldn't have even looked. I also have no idea how those of you that know the ring is in the house handles this!!

To add to things, my BF told me last week that he is going to mess with me and do a bunch of "romantic" things so I will never know when it is coming. That is great but it gets my hopes up every time and lets me down every time!!! I enjoy each evening and all of my time with him but hate this!!!

Thanks for letting me rant. I know there are so many similar posts to this, I just wanted to share mine!

How does every one handle this waiting time?!